Berlin – In which way do students from the textile and fashion industry believe, will textile companies will shape the future? That was the question the Textile Research Board (FKT) asked in September 2019. In the context of the FKT's future-study, which had been prepared at that point, the students were supposed to design corresponding business models.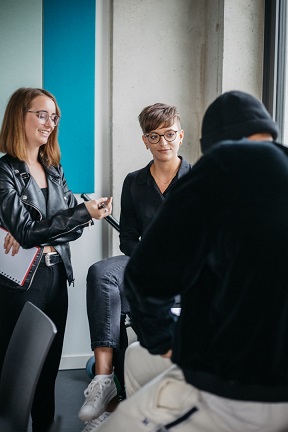 Young people are the most important player in the industry. How can their point of view be integrated additionally into the study "Perspectives 2035"? The idea came up quite spontaneously, to take students from all over Germany who participated in this year's Niederrhein University's event Summer School "Digitalizing the Fashion Supply Chain", into account.
They got an app which they used to design their vision of a business model for the year 2035. How can, have to or will companies change to prepare the branch and themself for the social and ecological challenges of the future and to ensure their international competitiveness.
One key aspect emerged: Customers are well informed and will consume consciously and in a sustainable way. Still or maybe this might be the reason why products become more and more individual. Design, dimensions and functions are designed in cooperation with the customer. For example, it will be possible to choose additional features or to leave some out: Not every outdoor jacket needs to withstand minus 25 Degrees or strong winds at the same time. Going on holiday to the Northsea you want to it to be windproof and going the Alps for skiing you want to stay warm.
This is how the consumer builds a much deeper relationship with the products he buys. Their value is much higher for him. The students believe that in the future only stuff is produced that people really want and especially need.
In the context of the study, the FKT organised workshops with various representatives of the textile industry and research. The vision that was now reaffirmed by the students' business models was already developed there.
Another essential element that was worked out is the cradle-to-cradle-principle: all material will be chosen with the background of a sustainable circular economy. The products are produced resource-saving, will be used for a long time and can be recycled completely at the end of their lives.