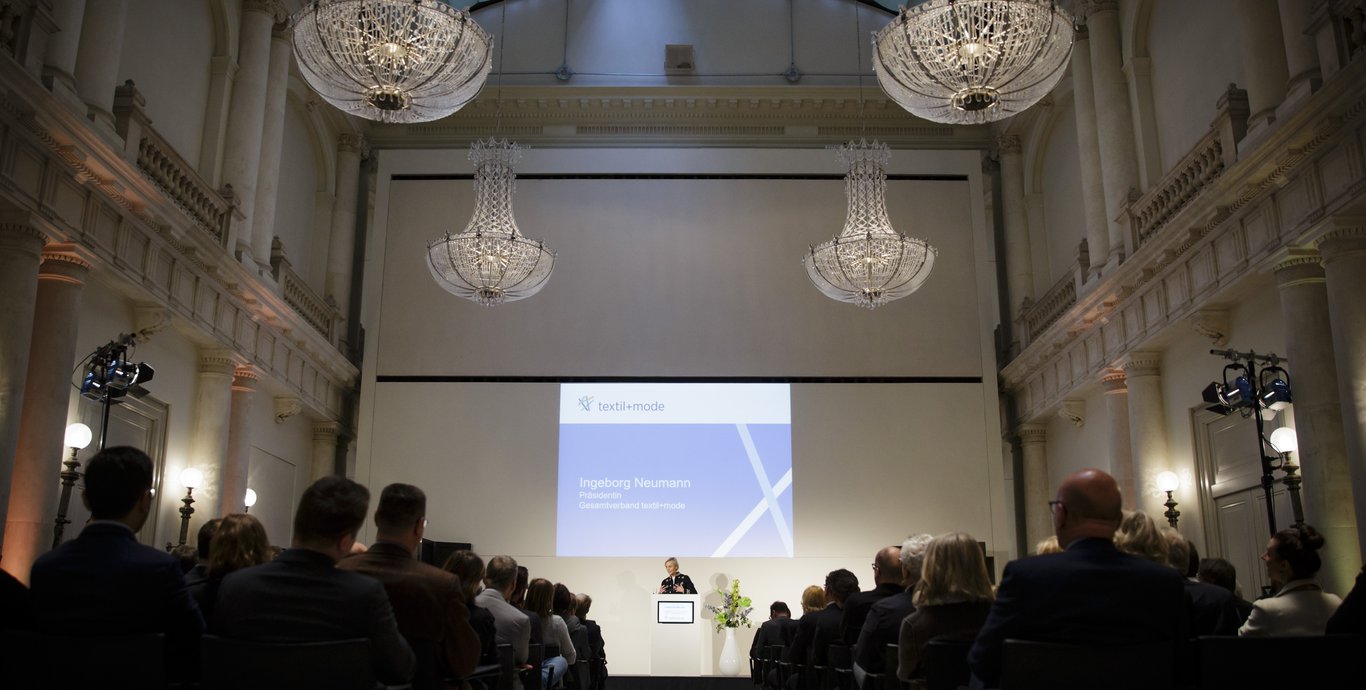 Veranstaltungsfilter
Bundesland

Branche

Event Type
Events
17.03.2021

08:00

-

19.03.2021

17:00

International Cotton Conference Bremen

Location

Bremen

Bundesland

Bremen

Branche

Fashion and clothing textiles

Event Type

Symposium

The bi-annual Bremen Cotton Conference is where specialists from the worldwide textile procurement chain come together. The conference will provide a forum for scientifically founded and practically useful insights into key issues surrounding cotton production, textile processing and innovative cotton based products.

Passion for Cotton! 25. - 27. März 2020

31.03.2021

10:00

-

01.04.2021

15:00

17. Chemnitzer Textiltechnik-Tagung

Location

Chemnitz

Bundesland

Sachsen

Branche

Technical Textiles

Event Type

Symposium

Unter dem Motto "Textiltechnik als Schlüsseltechnologie der Zukunft" präsentieren Experten aus der Forschung, dem Maschinenbau, der Textilindustrie und der Leichtbaubranche ihre Entwicklungen und Erkenntnisse zu den Themenschwerpunkten

Textiltechnologien für den Leichtbau
Digitalisierung in der Produktion
Additive Fertigung mit Textilien
Funktionstextilien und Ergonomie
Ressourceneffiziente und nachhaltige Prozesse


Informationen zu dieser Veranstaltung erhalten Sie hier.

13.04.2021

09:00

-

14.04.2021

16:00

Smart Textiles International Conference InMotion2021

Location

Weimar

Bundesland

Thüringen

Branche

Technical Textiles

Event Type

Symposium

Topic

Smart Textiles, Technische Textilien

Lassen Sie sich inspirieren von aktuellen Forschungsergebnissen, Best-Practice-Beispielen, Workshops und Diskussionen. Im Fokus der Konferenz stehen Lösungsansätze für Automotive, Aeronautik und Persönliche Schutzausrüstungen.

Informationen zum Programm und zur Anmeldung unter: www.inmotion2021.com.

09.11.2021

09:00

-

11.11.2021

18:00

Composites for Europe

Location

Stuttgart

Bundesland

Baden-Württemberg

Branche

Technical Textiles

Event Type

Symposium

Topic

Verbundwerkstoffe

Der Business-Gipfel für Verbundwerkstoffe als wichtigste Plattform für die D-A-CH-Region

Die Composites for Europe, die vom 10. bis 12. November in Stuttgart stattfinden sollte, wird aufgrund der anhaltenden Folgen der Covid-19-Pandemie auf den 9. bis 11. November 2021 verschoben!