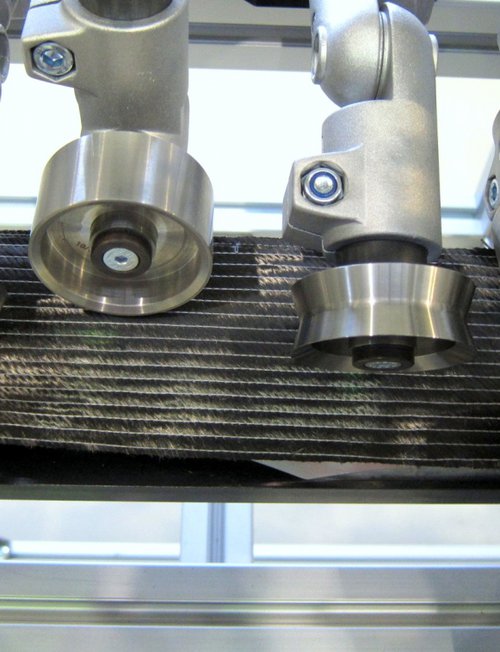 Continuous preforming of dry carbon fibre fabric using sets of rollers to gradually shape the final component geometry, © FIBRE
In the composite production process chain, the step of preforming is among the most important and also most difficult to automate. During preforming, the flat textile layers are given the final component geometry. The component quality greatly depends whether or not the manufacturing goals in the preforming stage can be reached or not. Traditionally, the preforming was often done by hand, because of handling issues with dry textiles. In order to lower manufacturing costs and thus introduce composite solutions for more cost sensitive products, automated preforming processes needed to be developed.
The objective of the project AChSo is to develop an automated continuous process for profile preforms that is advanced with the newly developed Chemical Stitching. The benefits of this new development are preforms with better permeability, better mechanical properties and less foreign material. This would enable the mass production of complexly shaped reinforcement profiles that also show exceptional performance. The out-of-autoclave processes that can be used for infiltration and curing these preforms are both more ecological and cost-efficient than prepreg preforms. The technology will be confirmed by manufacturing aileron spar preforms for the Eco-Design for Airframes demonstrator, with the geometries of the Do 228NG.
A high degree of innovation was accomplished by using semi-finished textiles without means of thermoplastic or thermoset powder binder. To stabilise the preforms thermoset stitching dots are injected by Chemical Stitching. This process diminishes the use of binder and therefore reduces material costs. Furthermore the stability of preforms becomes adjustable which gives additional opportunities in context of their formability and drapability. The development of this technology further advances the applicability of automated continuous processes for dry textiles. The ecological benefits of dry textile processes compared to prepreg processes are the lower energy usage during storage of the textiles and for curing the resin injected component. Automated preforming enables the reproducible production of near-net-shape textile preforms and thus simultaneously improves process stability and productivity. Continuous preforming processes can supply the number of preforms necessary for large scale mass production of composite components. More efficient processes will allow the introduction of composite into new areas, smaller aircraft, for example. This will in turn lead to a reduction in fuel consumption and emissions.
More information about the project
For further information please contact
Mirko Christ
Tel: +49(0)421-218-58680
E-Mail to: Mirko Christ
Listed by

Faserinstitut Bremen e.V.
Funding Sources: Clean Sky
Research Subjects:
Mobility
Production/Logistics